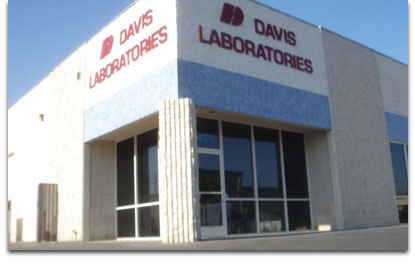 Founded in the early 70's, Eagle Intermountain Testing was acquired by Davis Laboratories in 1995, since which time we have greatly expanded the facilities, equipment, staff and capabilities.
We now boast fully certified SNT-TC-1A Level II & ASNT Level III personnel in Radiography, Magnetic Particle, Penetrant, Ultrasonic, and Eddy Current Testing as well as several AWS Certified Welding Inspectors (CWI) and a Certified Associate Welding Inspector (CAWI).
Our $100,000 X-ray shooting-room and x-ray cabinet make our Las Vegas facility the most modern nondestructive testing laboratory in Nevada history; capable of safely accommodating up to 300 kV x-ray and 100 curies of Iridium 192.
Our welding and metallurgy department can certify welders and welding procedures, in a practical and cost savings "one stop shop."
Inspection of structural steel, welding, and high strength bolting, round out and compliment our vast testing capability. Whether in-lab or on-site; from airframe inspection, construction inspection, or concrete radiography (including Cobalt 60 capable of penetrating up to 24″ of concrete), Davis Laboratories can do the job you need done.
Contacts @ Las Vegas Office: